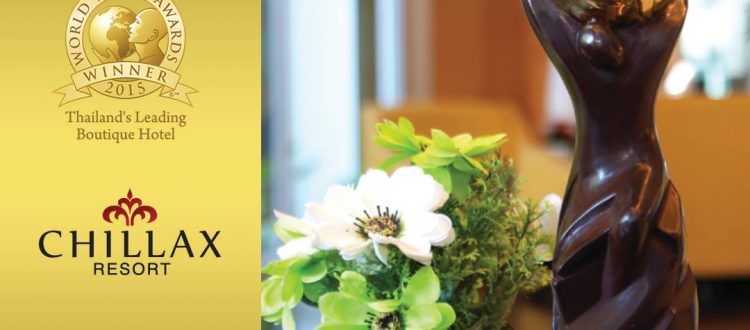 CHILLAX RESORT HAS BEEN AWARDED AS THE "THAILAND'S LEADING BOUTIQUE HOTEL" BY THE WORLD TRAVEL AWARDS IN 2015
Chillax resort has been recognized as the "Thailand's Leading Boutique Hotel" by the World Travel Awards team. The World Travel Awards brand is recognized globally as the ultimate hallmark of quality. The announcement published during The Asia & Australasia Gala Ceremony 2015, which was held at InterContinental Grand Stanford Hong Kong. "We are very proud to have received this accolade and recognition for our hotel", says Peeroj Chairatn, CEO of Chillax Resort. "Our hotel is well-known and has a reputation for excellent service and a great romantic chill out resort in Bangkok" antabuse tablets online.

World Travel Awards was established in 1993 to acknowledge, reward and celebrate excellence across all sectors of the tourism industry. Today, the World Travel Awards brand is recognized globally as the ultimate hallmark of quality, with winners setting the benchmark to which all others aspire. In 2015, World Travel Awards will celebrate its historic 22nd anniversary year. Each year World Travel Awards covers the globe with a series of regional gala ceremonies staged to recognize and celebrate individual and collective successes within each key geographical region. The prestigious World Travel Awards have been recognizing organizations delivering outstanding customer experience in travel and tourism for more than 20 years.
Chillax Resort is well recognized among the luxury hotels around world and established its benchmark after winning the World Luxury Hotels award continuously for two years in 2014 & 2015 respectively. The award is a well-earned recognition of the relentless commitment to providing the guests with the very best in service, facilities and standards. Besides this, the property also won the certificate of excellence from Trip Adviser in 2015 followed by 2014.